The digital sphere is witnessing a staggering range of attack vectors. Be it ransomware, malware, phishing emails, DDoS, or cyber espionage cases, we see a never ending streak of cyber threats. Hackers seem to have the ability to find the loopholes and hit deep into sensitive networks rather quickly. Combating these threats isn't easy.
Security teams also have their set of challenges; this includes the repetitive task of prioritizing incidents and analyzing the alerts. They do not have complete visibility into network traffic and user behavior to streamline security management. Due to this inability, they find it difficult to detect anomalies and pin these issues down to resolve them. This challenge is due to silos of endpoint detection and network analysis tools they deal with, resulting in slower investigations and inefficiencies.
It's time to find a way to mitigate these threats and hunt down stealth attacks.
An XDR (extended detection and response) solution is the way out. It uses machine learning to examine and unify data from networks, cloud, endpoints, and security analytics while identifying attacks and automating root cause analysis for rapid investigation and response. The data lake feature in XDR helps to normalize, stitch and store security data.


XDR works by integrating multiple security products and making them interoperable to enable threat detection and response. By bringing together technologies, XDR overcomes the challenges of siloed security environments. Tighter integration streamlines every stage of security operation- from prioritizing alerts to quick detection and response to threats.
XDR offers immutable threat prevention. Its endpoint and response capabilities have several ways to secure endpoints, from complex exploits, malware to ransomware. These capabilities enable predictive levels of prevention, detection, and response across digital assets. XDR seamlessly integrates with cloud based threat intelligence sources to coordinate threat mitigation across the infrastructure.
XDR Competence Snapshot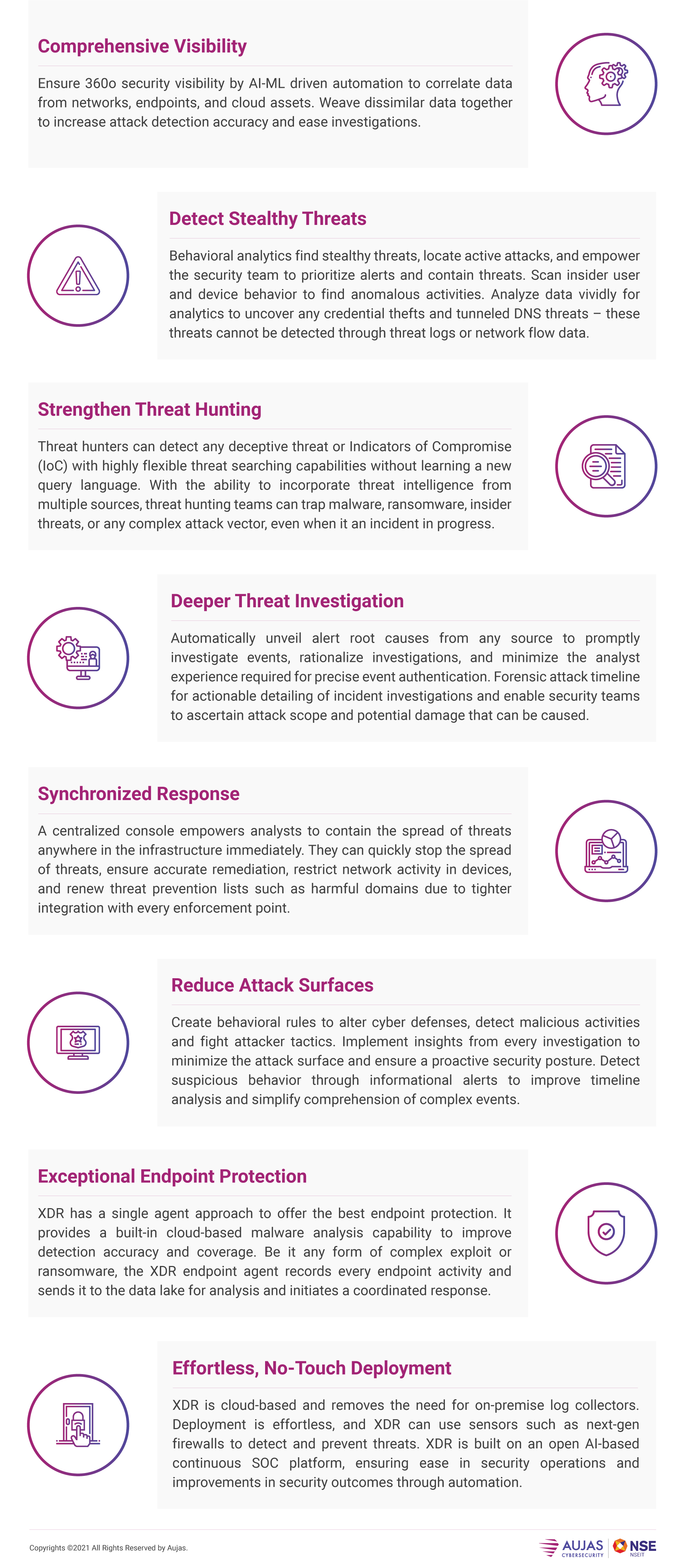 To know more about Cloud native XDR threat detection and response capabilities, talk to our experts at contact@aujas.com.