Cyber attacks are inevitable. Ransomware such as WannaCry or Petya has reinforced that continuously enhancing your protection is the only way to increase your security posture. Moreover, with the adoption of the remote work model, employees, stakeholders, and vendors are increasingly accessing the enterprise network from various devices and locations whose security levels are highly questionable.
Malicious actors are having a gala time as this is the ideal playground for them to operate and cause maximal damage by launching non-linear attacks. These attacks can start from an endpoint using phishing attacks or malware and then move laterally, avoiding detection and impersonating an authorized user while traversing through various systems in the network, gathering privileges and credentials, and finally getting total access to the identified payload. This can paralyze your business, resulting in sensitive data exposure and theft, financial losses, and seriously impacts brand value.
Given today's threat landscape, you need to think of intuitive and intelligent investigative capabilities to support your SecOps team to quickly detect adversarial activities or malicious insiders rather than combating them when they arise.
Microsoft Security Services offer a unified, next-gen, and layered approach consisting of Azure Security Center, Azure Sentinel, and Azure Defender that can easily be integrated into your existing environment. You will be able to monitor the security of multiple cloud workloads and digital assets across infrastructure and meet the security recommendations with total visibility across the business ecosystem, 24x7.
Azure Security Center offers base level security posture management, including on-prem and multi-cloud environments using Azure Arc. Azure Sentinel provides Security Information Event Management (SIEM) and Security Orchestration, Automation, and Response (SOAR) abilities across your environment, including securing third-party devices. Azure Defender ensures advanced cloud workforce protection and cloud security management by identifying gaps in cloud configurations.

ASC is an integrated security management platform that can provide real-time visibility of cloud and on-premise environments. It can continuously discover new resources deployed across the infrastructure and perform a primary assessment to check whether their configurations align with the best practices. It can correlate events using security analytics to provide customized recommendations and review these implementations across workloads. ASC also helps assess the security posture of every workload through one dashboard by assigning a Secure Score to each of them.
ASC is embedded into every Azure service and seamlessly integrates with Azure Advisor to scan cloud environments. The network map in the ASC gives you an interactive view of the network by displaying the resources and the security recommendations associated with them. By default, ASC can automatically discover and onboard Azure resources, and by Azure Arc, you can onboard Non-Azure resources.
ASC can streamline compliance processes; you will get a clear view of your entire business environment through dashboards. To enable this feature, ASC needs Azure Defender to reflect the security policies in all the registered subscriptions, logs, and MS Cloud App Security.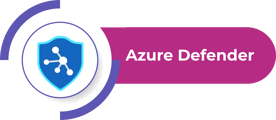 Azure Defender is available within ASC and can unify security management of workloads while analyzing network signals from across the Azure environment to identify threats. It also secures Non-Azure resources in on-premise and cloud.
Key Features of Azure Defender
Detailed Alerts: Explicit alerts describing the malicious process that is executed and the MITRE ATT&CK tactic used.

Identify & Assess Vulnerabilities: Uses Qualsys vulnerability scanner to look for vulnerabilities and sends the results to ASC. The vulnerabilities are prioritized based on severity, and the latest available patches are highlighted to fix them.

Port Management: Provide just-in-time port access by either locking or opening them based on the user access request. The process is automated with no manual configurations of the security groups or firewall.

Application Allow-Listing: Enables automated allow-listing of safe applications through machine learning analysis. Security alerts are generated if any applications are not on the allow list.

Resource Hardening: Hardens connected resources and services through file integrity monitoring, adaptive network hardening, and Docker host hardening.
As we have seen, ASC can continuously monitor your resources, and Azure Defender can scan for vulnerabilities, ensure applications and network controls, and manage ports effectively. Let's look at Azure Sentinel now.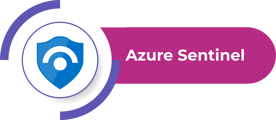 Azure Sentinel is a cloud-native SIEM-SOAR solution that gives a high-level view of the security happenings within your business ecosystem. SIEM is used for incident management, and SOAR is for automated threat response. These features empower security analysts to detect and respond to a complex attack quickly
Azure Sentinel Encompasses the Following Aspects of SecOps
Collect data at scale across users, applications, infrastructure, and users from on-premise and cloud environments.

Detect any uncovered threats and use analytics & threat intelligence to reduce false positives.

Investigate threats using Artificial Intelligence and hunt malicious activities at scale.

Respond to incidents faster by automating and orchestrating common tasks.
Azure Sentinel is built on Microsoft Azure, one of the best cloud platforms, and eliminates the need for infrastructure and management complexity scaling readily to meet dynamic security needs.
Azure Sentinel uses AI and Microsoft threat intelligence feeds to detect multi-stage attacks, correlate alerts into incidents, reduce false positives, automate tasks, identify incident root causes, enable threat hunting, and simplify security operations. Few other key features include seamless integrations with your existing security tools using a broad range of connectors and data analysis from on-premise & cloud applications and users.
Aujas is a specialized Microsoft Security Services partner. To know more about advanced threat protection and defenses using Azure Sentinel, Azure Defender & Azure Security Center, talk to our security experts at contact@aujas.com.