In today's digital-first world, businesses of all sizes are constantly threatened by cyberattacks. Organizations must implement strong security measures and regularly test their defences to protect themselves. Failing to do so can result in severe losses from not just the attacks but from regulatory agencies that penalize enterprises for failing to comply with security guidelines.
As cyber threats continue to mount in both frequency and complexity, several law-making bodies across the globe have implemented their regulations to maintain data security compliance. These include prominent laws such as the HIPAA (Health Insurance Portability and Accountability Act), GDPR (General Data Protection Regulation), and NIST (National Institute of Standards and Technology), among others. Though they cover a wide range of demographics and territories, their overarching goal is to enforce industry data protection compliance.
Penetration testing is a simulated cyberattack conducted by a qualified security professional that aims to identify and exploit an organization's IT infrastructure vulnerabilities. Information from the simulated attack is then used to strengthen security and reduce the risk of a real attack. As several regulatory bodies now demand regular risk assessments and vulnerability tests on a frequency, penetration testing is a particularly effective method to gain better security posture and maintain compliance.
If that's not enough, here are seven reasons why all organizations should include penetration testing as a part of their arsenal.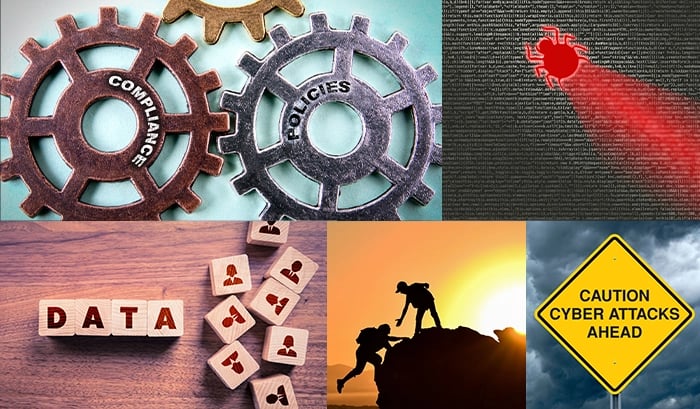 Identify and fix vulnerabilities: The primary purpose of penetration testing is identifying and fixing vulnerabilities in an organization's IT infrastructure before an attacker exploits them. This is important because even if you have implemented all the required security controls, there is always the possibility of bypassing the control either due to configuration errors or poor coding. Several US-based data compliance laws, such as the NIST, FISMA (Federal Information Security Management Act), and PCI DSS (Payment Card Industry Data Security Standard), strongly emphasize the need for regular security assessment to ensure the effectiveness of the security controls implemented. Penetration testing in a controlled environment can help you identify gaps in your security controls so you can take measures to prevent unauthorized access to your systems and data.

Meet compliance requirements: If your organization is subject to any specific compliance (like GDPR or PCI), you need to have appropriate technical and organizational measures in place to protect the personal data of your customers and employees. Penetration testing can help you identify if the data security standard is met and evaluate if your security controls are secure enough to ensure compliance with the GDPR's guidelines.
Reduce the risk of a data breach: Data breaches are becoming increasingly common. These incidents have the potential to severely impact businesses, tarnishing their reputation and eroding customer trust in the effectiveness of their security measures. Penetration testing evaluates data protection controls with a strong focus on data encryption standards, authentication and authorization standards to access data, the way PII (Personally Identifiable Information) data is handled, to verify the reach of the attacker into the data environment.
Protect customer data: With today's focus on data analytics, businesses need to collect and store sensitive customer data, such as credit card numbers, social security numbers, and medical records. Securing this customer sensitive data is of prime importance to any organization. The Payment Card Industry Data Security Standard (PCI-DSS) requires merchants that annually store, process, or transmit credit card data to conduct penetration testing to protect this data. In addition, HIPAA compliance requires healthcare organizations to implement a comprehensive security program to protect their patient's electronic protected health information (ePHI).
Improve security awareness: Penetration testing can help to improve security awareness within the organization. By evaluating how attackers can exploit vulnerabilities, organizations can learn how to protect themselves from cyberattacks while adhering to the core guidelines laid down by certain agencies. Conducting regular penetration testing not only strengthens the security posture, but also helps developers to identify possible vulnerabilities in their code. It can also help them learn from the identified vulnerabilities and develop better code in the future.
Build trust with customers and partners: Customers and partners want to do business with organizations they can trust. Businesses can build trust with their stakeholders by conducting penetration testing and demonstrating that they take security seriously. For example, data service providers working with financial data or PII have an added responsibility to safeguard credit card or bank account information or Social Security number. Any mishap on their end can lead to a serious breach of trust and financial data leakage, as well as severe sanctions for non-compliance with directives such as PCI-DSS, CCPA, and NYDFS. With the help of penetration testing, organizations can strengthen their overall security posture and uphold the trust of their customers.
Improve the organization's overall security posture: Penetration testing can help improve an organization's overall security posture by identifying and fixing vulnerabilities, improving security awareness, and building trust with customers and partners. The NIST provides several security frameworks organizations can use to improve their security posture. Penetration testing can help you assess your organization's compliance with NIST standards to ensure full compliance and baseline against security benchmarks.


Clearly, penetration testing is an essential part of any comprehensive program. By including penetration testing in an existing or new program, businesses can substantially improve their security posture, reduce the risk of a data breach, and protect customer data across their digital operations.
Add penetration testing to your security strategy with Aujas Cybersecurity
Penetration testing is a valuable tool for organizations of all sizes. By conducting regular penetration tests, businesses can better understand their attack surface, identify and prioritize security risks, develop and implement adequate security controls, and improve their incident response plan.
If you want to use penetration testing to ensure security, Aujas Cybersecurity's Flex-on-Demand model is the industry-trusted choice. As a leading provider of penetration testing services, we can help you to assess your security posture and develop a penetration testing plan that meets your unique needs while aligning with the regulations of several compliance initiatives across the globe, including GDPR, HIPAA, NIST, and many more.
For a consultation or demo, get in touch with us here.
References: